The Instrument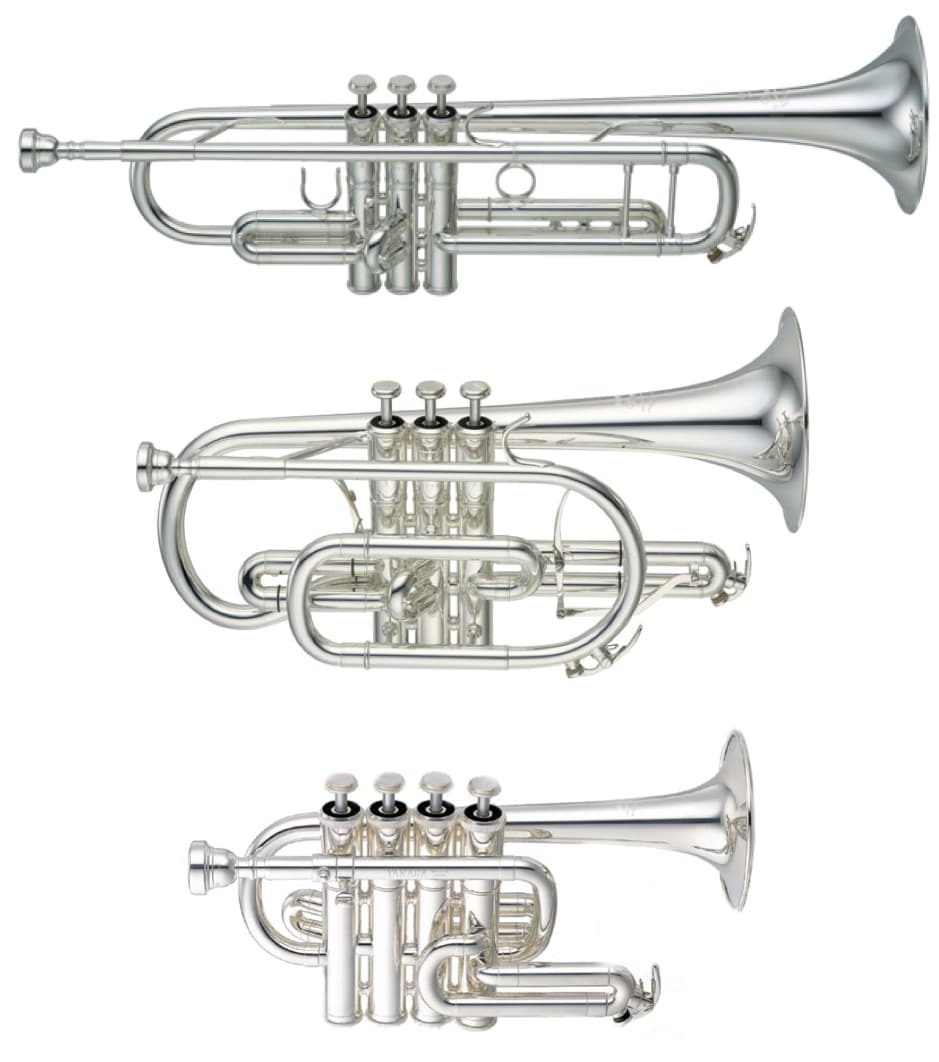 Trumpet, cornet, and piccolo trumpet (t to b)
The trumpet is one of the oldest wind instruments, dating back to 1500 BCE or earlier. The trumpet section of the Concord Band has nine members, which is fortunate since some of the compositions we play have as many as eight different parts to be played on trumpet or cornet.
The trumpet and cornet, almost always pitched in B♭ in the concert band, are the highest sounding of all of the instruments of the brass family. The two instruments, pictured in column two, have few differences. They have the same pitch range and sound almost the same.
Some would argue that their different bore shapes (the trumpet is cylindrical, like the trombone, while the cornet is conical, like the French horn), make the trumpet and cornet very different, but in a concert band trumpet section, one will often find them intermixed. A composition for band can have as many as four parts intended for trumpet and four more for cornet. These parts will not always be played on the instrument called for.
The basic pitch of a trumpet or cornet is determined by the length of its tubing. This length is modified by depressing one or more valves. In the US, these valves are of the piston type, as shown; in Europe, rotary valves, like those on the French horn, are typical. The most common basic pitch of the trumpet is B♭, but A, C, D, E♭, E, low F, and G trumpets are also available.
A number of specialty trumpets are used under unique circumstances. The herald trumpet has an extremely elongated bell (allowing banners to be hung from it) that has no effect on the sound of the instrument. For high-pitched parts, the best known of which is probably the promenade in Mussorgsky's
Pictures at an Exhibition
, the piccolo trumpet is available. The pocket trumpet, a highly compressed instrument, is convenient for practice while traveling, but is not meant for playing in performance.
The Players
(l to r) Arthur Magazu, Ron Smith, Bob Marcus, Cindy Blanchard, Carol Messina,
Geoff Whiting and C. G. Lower. Not pictured: Paul Mawn and Fred Taylor.
The nine members of the Concord Band trumpet section are a very diverse group. They are (with biographical information provided by the players):
Cindy Blanchard
, a resident of Boxborough, joined the Band in 2011. A trumpeter since the 4th grade, her BA was in trumpet performance and composition; her MA was in performance (Juilliard) and conducting (College of NJ). Her teachers included André Come (BSO). Cindy played in many types of ensembles before joining the Concord Band. She is Dir. of Music at Maynard High School.
C. G. Lower
, a resident of Fitchburg, joined the Band in 1999. He earned his bachelor's and master's degrees in music education and has a Cert. of Adv. Grad. Studies. Now at Fitchburg State University, he has been a music educator for 48 years. He has been a member of a number of area bands and a drum and bugle corps.
Arthur Magazu
, who joined the Band in 2006, lives in Amherst, NH. Those who have heard Arthur play his trumpet will be surprised to learn that he is essentially self-taught. His experience is substantial, and includes both jazz and concert music.
Bob Marcus
, a resident of West Newton, joined the Band in 2003. In Pittsburgh, he began playing the trumpet in the second grade and was very active through high school, participating in all-city orchestra and tri-state bands. His career as a social worker followed degrees at Brandeis (BA and MSW). Bob played in chamber orchestra and other ensembles there. He has been a member of a number of local concert bands.
Paul Mawn
, the longest serving member of the trumpet section and a resident of Sudbury, has been a member of the Band since 1972. He began private trumpet lessons in the 7th grade. Paul played in the Harvard Band (geology major) and in a dance band while there. (His MBA is from Rutgers.) He has played in several community bands. Paul runs an international consultancy serving the petroleum industry and is a retired Navy Captain.
Carol Messina
, a resident of Concord and a member of the Band since 2006, is a retired music educator, having taught general music in elementary and middle schools. Carol was a piano major at Anna Maria College and has an MA from UConn. She played trumpet through high school but not again until retirement, after playing French horn for several years.
Ron Smith
, a Maynard resident who has been a member of the Concord Band since 2008, has been a trumpet player since the 6th grade. His Air Force family moved a lot, but he played in marching and concert bands in high school and through four years at the University of NH, where he earned a degree in math. Ron works at Raytheon in IT management and as a principal software engineer.
Fred Taylor
, our newest trumpet section member and a resident of Sudbury, joined us earlier this season. Fred is a retired music educator (37 years) with BA and MA degrees in music and a CAGS in education. His primary instrument is the trumpet, with percussion as his secondary instrument. Among his trumpet teachers was André Come (BSO). Fred has played in ensembles of various types and sizes for many years.
Geoff Whiting
, who joined the Concord Band in 2009, is a resident of Danvers and an emergency room physician. He began playing the cornet in 1965 and went on to develop extensive experience playing in concert bands, jazz ensembles and drum and bugle corps all over the country.
---
Daniel S Diamond
Dan Diamond is a mainstay of the Concord Band, having served for decades and wearing many hats, including Trustee, percussionist, editor, fundraiser, publisher, and producer.